As the Writers Guild of America (WGA) Strike looms, Paramount CEO Bob Bakish reveals how the studio plans to survive the impending crisis.
During the company's earnings call on Thursday, Bakish confirmed that Paramount has taken precautions by producing new releases and shifting production offshore to prepare for a prolonged standoff with the writers.
Consumers may not notice the impact of the writers strike right away
Bakish acknowledged the significance of writers in creating content across various platforms and expressed hope for a speedy resolution. However, he admits that there is a massive gap that needs bridging, and Paramount is prepared to weather the storm using several strategies.
To manage the impact of the strike, Bakish explained that Paramount has a lot of content already in production. He said that, except for late-night shows, consumers won't feel the effects of the strike for some time.
The studio also has a broad range of unscripted, reality TV shows, and sports programs that will remain unaffected. Bakish also highlighted Paramount's position as a leader in these areas, and the offshore production will leverage pre-strike. Besides, the studio boasts one of the most significant libraries in media, which should cushion it from the strike's financial impact.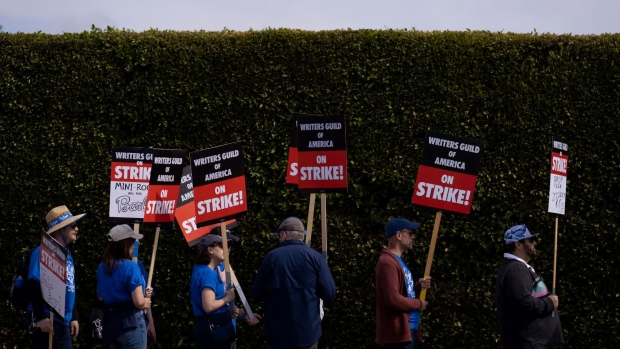 Streaming giant Netflix and other media companies prepare for the impact of the writers strike
Bakish's comments echo those of other industry leaders such as Netflix CEO Ted Sarandos, who said that his company could better withstand the effects of a writers' strike due to its extensive library of content. Similarly, Warner Bros. Discovery CEO David Zaslav expressed similar sentiments.
The WGA members have already begun picketing outside Paramount's headquarters and other studios like Amazon, Netflix, and Warner Bros. Discovery. Despite the impending challenges, Paramount has a full slate of upcoming content releases, including four franchise films over the next few months.
Despite the writers strike, Paramount continues to focus on content and grow its streaming subscribers
Paramount also plans to release Special Ops: Lioness, a Taylor Sheridan show starring Zoe Saldana, Morgan Freeman, and Nicole Kidman this summer. While the company expects subscriber additions to be slightly softer in the second quarter due to seasonality, Bakish predicts that subscriber growth will resume in the second half of the year thanks to the combination of Paramount+ and Showtime.
According to Moody's analyst Neil Begley, a new agreement with the Writers Guild could cost media companies between $250 million and $350 million per year. However, given the impending negotiations with other unions, Begley expects the total annual cost to increase to $450 million to $600 million a year.
While the impact of the writers' strike remains uncertain, Bakish is confident that Paramount will overcome the challenges. For now, consumers can rest easy, but only time will tell how the studio navigates the choppy waters ahead.